Despite a series of disappointing results to date New Jersey's interactive gaming market still has the potential to achieve a gross win of US$370m by 2018 if all of the initial headwinds can be overcome.
H2 Gambling Capital (H2) is pleased to announce the first in a series of Executive Market Report Packages available either on an inclusive basis for existing subscribers or for non-subscribers as a single purchase. New Jersey is the first market to be covered in the series, which will include an easy to use PowerPoint Deck, Detailed Market Dataset and Regulatory Update Paper for each market.
The New Jersey land-based gaming market has been in decline since 2006. The recently launched onshore licensed interactive gaming market (casino and poker) even though to date failing to achieve its potential is contributing to stabilising the state's gaming market. H2 are forecasting that total gambling revenue will increase from US$4.2bn in 2013 to US$4.4bn by 2018. Commercial casinos account for the vast majority of the state's gambling activity at just under 70% of all gross win[1], though horserace betting and a state lottery are also in operation.
Spend per adult on interactive gaming is still expected to increase from low double digits to high double digits over the coming fiver years. However, due to structural changes in a number of products, total gambling spend per adult is expected to fall from US$313 in 2013 to US$216 by 2018e. NB. H2's spend per adult calculations account for a proportion of casino revenue being generated from non-state residents (other permutations are available in the detailed dataset model).
Whilst the onshore licensed interactive gambling market is progressing it is believed that there remains a strong offshore-unlicensed market especially catering for the higher end sportsbetting and casino markets, a pattern that is still seen across most of the United States.
The recent acquisition of Rational Group (PokerStars / FullTilt) by Amaya Gaming could be a catalyst for further growth in the state should the company be awarded a license though there are a number of hurdles to overcome before this can happen. The Executive Report looks at acquisition potential in further detail.
New Jersey Total gambling Gross Win 2003 to 2018 (US$m)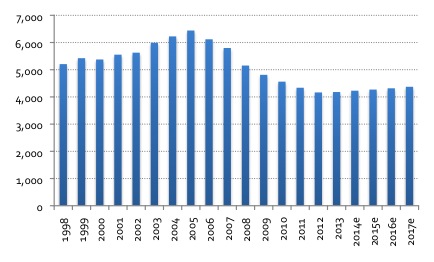 Source: H2 Gambling Capital, June 2014
New Jersey Total Gambling Product Split 2013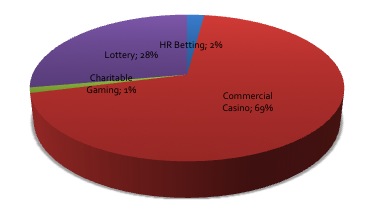 Source: H2 Gambling Capital, June 2014
About the Executive Market Report Packages
The concept behind H2's package series is provide an easy use tool for busy senior executives covering key takeaways including market background (demographics, economy, taxation, government, culture), historical gambling market size / trends (land based and interactive trends, by-product, by-channel), gambling regulatory trends (market dynamics, trends and taxation) and market forecasts. The PowerPoint deck can easily updated / refreshed by H2 and slides directly utilised in company / analyst presentations.
Each Executive Market Package will include a detailed regulatory update paper and fully comprehensive dataset covering the value and volume of gambling activity both land based and interactive (licensed and unlicensed, by-product) including detailed market data from as far back as 1998 with forecasts out to 2018.
The full package (including access to 12 months of regular updates) is available to subscribers free of charge or can be purchased as a one off for £850 (+VAT if applicable).
NB. A full annual subscription is £6,000 (+VAT if Applicable) per annum and includes 12 months access to all H2's datasets and market intelligence. It is expected that there will be in the region of 1,000 new or updated postings made over the course of a subscription taken out today.
Please contact reports@h2gc.com for further details.
About H2
H2 is universally regarded as the leading source of data regarding the global gambling industry. H2 offers the most comprehensive iGaming/land based data service as well as detailed market reports and bespoke consultancy.
The subscriber area of H2's website now includes almost 2 million data points with there expected to be in the region of 1,000 new / updated postings of materials in the coming year.
H2's One Stop Global Gambling Data Service includes National Datasets, National iGaming Regulatory Updates and Market / One Off Reports (including the latest Mobile Gambling Report) and NOW Executive Market Reports.
H2's New Global Gambling Summary Dataset includes global and regional data for all markets, channels and major product classifications, ranking tables and has forecasts out to 2018. The dataset is continuously updated and made available to subscribers on a weekly basis.
Further details of all H2's products and services including the new Executive Market Report Package may be found at www.h2gc.com or by emailing reports@h2gc.com.
For further details contact Joel Keeble at either joel.keeble@h2gc.com or +44 7810 006157
[1] *Gross win is stakes less prizes but including bonuses. This is the measure used for all values throughout this press release unless otherwise stated