H2 has recently expanded its company coverage to over 65 operators / suppliers / affiliates in the global gambling sector, generating quarterly revenues of over €20bn.
With the Q2 2022 reporting season now finished, H2 Gambling Capital has released its analysis of the industry's performance through its newly expanded corporate research service.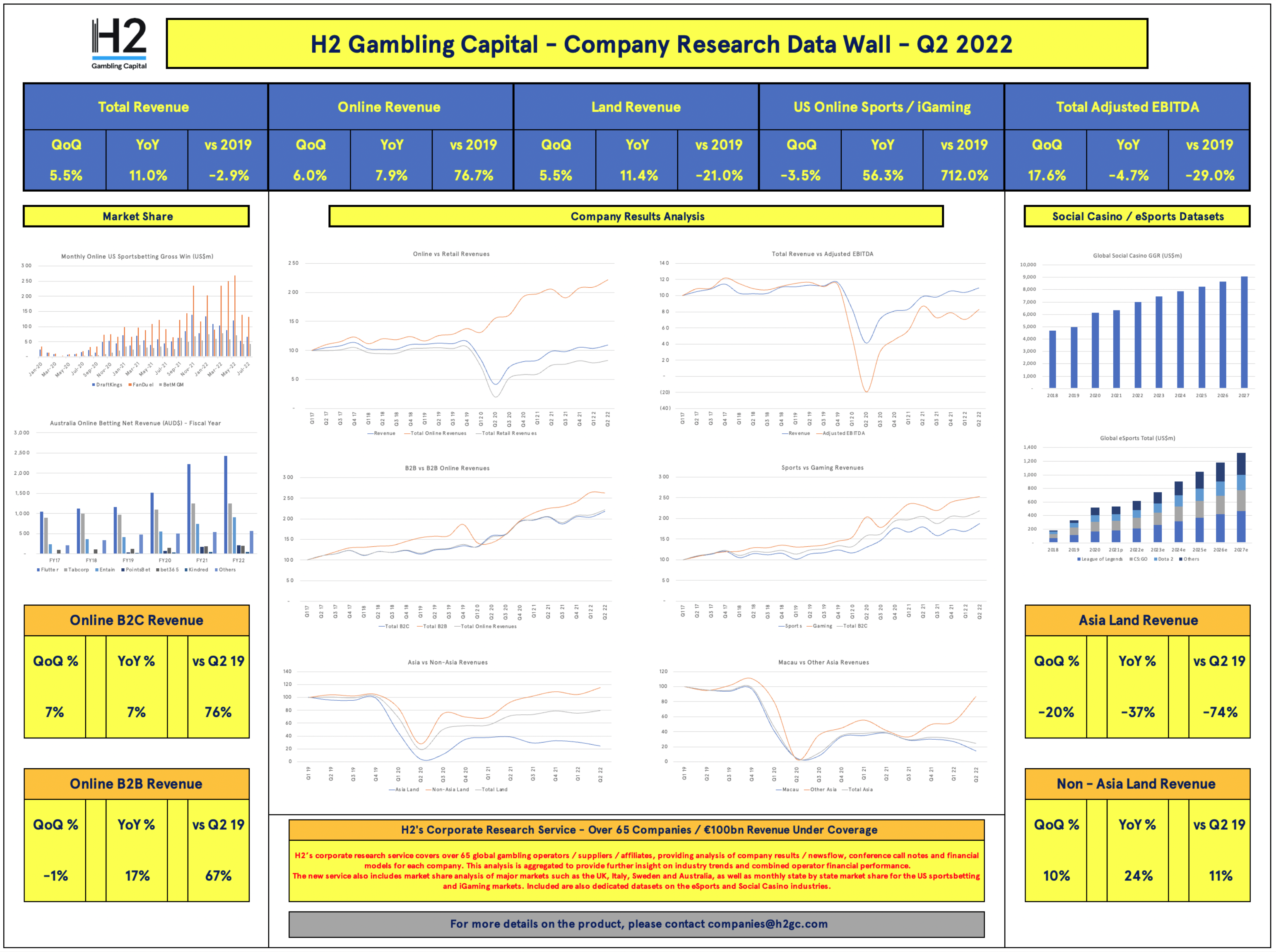 Q2 2022 – Key Takeaways
Q2 2022 gambling company revenues are yet to break back through their pre-COVID levels, with revenues still -2.9% lower than in Q2 2019, but up 11% year on year and up 5.5% compared to Q1 2022.
However, there still remains a significant divergence in performance between the retail and online segments, and on a geographic basis.
Online Revenue Performance
Online revenues are up 8% year on year / 6% quarter on quarter.
The main driver of the year on year growth was B2B
However, the sequential growth was driven by B2C, whereas B2B was down -0.5% QoQ – the first quarterly decline since Q2 2020
Not all operators split their B2C by product, but amongst those that do provide a split:
Sportsbetting was up 5% YoY but up 11% QoQ
Gaming was up 10% YoY, but up only 2% QoQ
Land-based Revenue Performance
Land-based revenues are up 11% year on year / 5% quarter on quarter.
However, land revenues remain -21% below pre-Covid levels vs Q2 2019
There is a significant divergence in geography, with Asian revenues still down -74% compared to Q2 2019, whereas non-Asian revenues are 11% higher vs Q2 2019
Asia continues to get dragged down by the lack of a recovery in Macau:
Macau revenues remain -85% below pre-Covid levels vs Q2 2019
By contrast, other Asian revenues are down -8% compared to Q2 2019
Earnings Growth
We note that some major companies do not report earnings on a quarterly basis (such as Flutter, Entain, 888) and therefore the quarterly EBITDA is taken from a smaller number of companies than the revenues. However, for those that report quarterly data:
Year on year declines of -5%, but a significant quarterly improvement, with Q2 adjusted EBITDA up 18% compared to Q1 2022
However, this remains -29% below that reported in Q2 2019
Land-based EBITDA remains -35% below that reported in Q2 2019
Online EBITDA for this group of companies is -5% below that reported in Q2 2019, however this is significantly skewed by the reporting of US-facing operators with large quarterly losses.
H2 Gambling Capital Corporate Research Service
H2's new add-on corporate research service covers over 65 global gambling operators / suppliers / affiliates, providing analysis of company results / newsflow, conference call notes and financial models for each company. This analysis is aggregated to provide further insight on industry trends and combined operator financial performance.
The new service also includes market share analysis of major markets such as the UK, Italy, Sweden and Australia, as well as monthly state by state market share for the US sportsbetting and iGaming markets. Included are also dedicated datasets on the eSports and Social Casino industries.
For more details on the product, please contact companies@h2gc.com
About H2 Gambling Capital
H2 Gambling Capital is the leading supplier / aggregator of data regarding the global gambling sector. Its subscribers include many of the leading sector operators, suppliers and regulators across the gambling industry as well as in the banking and investment sector. H2 has also worked with 100's of clients from every continent on a bespoke basis under its H2 Premium service.